5 On-the-Go Exercise Tips for Busy New Yorkers
Life is hectic, with everybody struggling to balance work, family, friends, and responsibilities.
But your health should always be your number one priority, even when the time isn't there. Here are 5 on-the-go exercise tips for when you don't have time for full hours-long workouts, but need to fit in some quick exercise.
These tips use either readily available objects, or something quick and easy to carry, such as a jump rope. And as always before starting a new exercise routine, consult with a doctor to assess your fit level and general health.
How long has it been since your last checkup? Request an Appointment
Exercise Tip #1: Take the Stairs
Somewhere throughout your day, you encounter stairs-whether in your building, on your way to public transit, or just passing them by.
Now, if you work or live on the 34th floor, it may not be wise to do all 34 flights (unless you are a stair-master!) but doing several rounds up and down multiple flights of stairs can make a big impact on your physical health.
To start, try this:
Step 5 flights up
When at the top, run in place for a minute or two, or stretch
Step 5 flights back down.
Repeat this sequence 3 times as a circuit. Keep in mind that you can always start out by walking the flights at a steady pace, and and then work yourself up to jogging or running.
Exercise Tip #2: Jump Rope for a Healthy Heart
Jump ropes are cheap, easy to find, and able to be stuffed into a backpack or bag for easy transport.
While jumping rope might not seem like the most exciting exercise, it is a great, heart healthy option.
One of the best exercise tips you can follow is to try doing a jump rope circuit.
Jump rope for 60 seconds, then do pushups for 30 seconds. On the next round, do squats in between jumping, and then try doing sit-ups or lunges in between the next round of jumping.
This is a great, quick and effective workout to do on the go.
Exercise Tip #3: Grab a Chair
A simple chair is surprisingly versatile when it comes to an on-the-go workout.
Whether you are at your desk, traveling in a hotel, or just at home, a chair can be utilized in your workout.
You can use a chair to do planks, pushups, lunges, and chair dips. There are a wide variety of workouts and circuits using a chair. Learn how to do a total body chair workout here or for seated chair workouts, look here.
Exercise Tip #4: Power-walking is Surprisingly Effective
Fitness scientists at Washington University in St. Louis have discovered that if you walk at a 4.5-mph pace, you can burn almost as many calories as someone jogging at about the same speed because you're using the same amount of energy to stay in motion.
Make sure you are wearing supportive shoes, swing your arms for more momentum, and add intervals, periods or "bursts" of a faster pace, to help burn more calories. Start at 30 minutes, and then see if you can add more time as you increase your stamina.
Nearly everyone in New York City walks a lot. If you don't have time in schedule to carve out 30 minutes, try increasing your normal walking speed during your daily commute.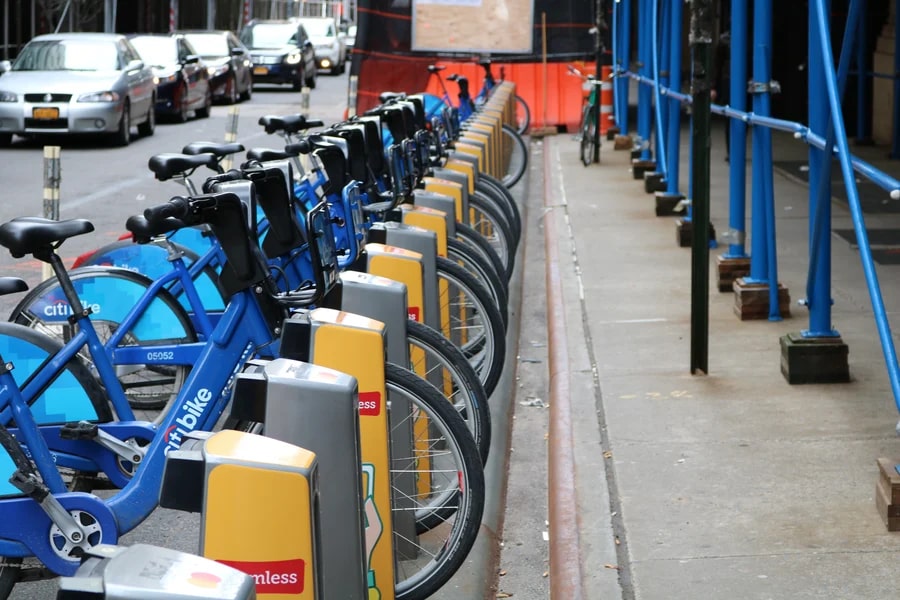 Exercise Tip #5: Citi Bikes are Just a Street Away
In a previous post we talked about springtime activities in the NYC area.
A CitiBike is a great option for getting around while burning some calories and getting your heart going. Rental for a CitiBike is only $9.95 plus tax for a 24- hour pass, and then you simply return it to any of the kiosks surrounding the city. You can do this on your lunch break or after work.
Try to bike for at 30-60 minutes, at a steady pace. This can be hard to do in the city without stopping and starting, so use a city park to loop around or bike through.
What Exercise Tips Can You Share?
These are just a few you easy tips can try today. What other exercise tips can you share in the comments?