Apicha & the Arts: June Events
Category: News & Events
Posted On:
Written By:

Apicha Community Health Center
Apicha Community Health Center is excited to announce the continuation of its series, Apicha and the Arts, where we team up with other organizations in our community to create special events tailored for New York City's LGBT communities, people living with HIV/AIDS, and people of color.
At these events we will enjoy the work created by our communities and learn about new ways to stay healthy to ensure we keep making great art like PrEP—the latest tool to prevent HIV transmission.
It is our hope that these events will provide a space for these communities to come together, celebrate our work, struggles, and achievements, and, most importantly, inspire one another.
 These events are sponsored through a grant from the New York State Department of Health's AIDS Institute.
---
Looking for a healthcare provider who understands your needs? Request an appointment
---
Special screening at Studio 17@Gawker
Kick off Pride NYC with the camp classic, Showgirls. Whether this is your first time or it's already your favorite movie, join us in viewing this classic film to celebrate Pride in New York.
We are also pleased to announce that we will be offering FREE on-site HIV, Gonorrhea, and Chlamydia testing. Feel free to invite all of your friends and BYOB! 
Event Details:
Date: June 20, 2016
Time: 7:00 pm
Venue: Studio 17 @ Gawker
2 W 17th St. New York, NY 10011
Page Meets Stage: Rigoberto Gonzalez & Khalin Vasquez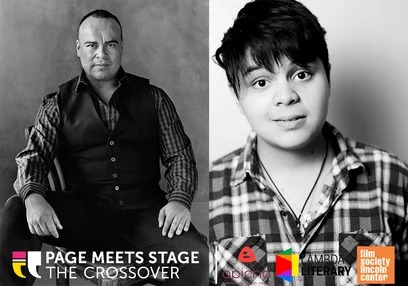 In Partnership with the popular New York City Reading Series Page Meets Stage, The Crossover is a quarterly event where fellows and writers associated with Cave Canem, CantoMundo, Kundiman, Lambda Literary, Apicha Community Health Center and other like-minded organizations are paired with emerging teen poets from Urban Word NYC to engage in a reading and conversation about their works.
Each event will pair the voice of a young artist with organizations that create space for and support the work of communities underrepresented in American letters.
Rigoberto Gonzalez:
Rigoberto González is the author four books of poetry, most recently Unpeopled Eden, which won the Lambda Literary Award and the Lenore Marshall Prize from the Academy of American Poets. 
His ten books of prose include two bilingual children's books, the three young adult novels in the Mariposa Club series, the novel Crossing Vines, the story collection Men Without Bliss, and three books of nonfiction, including Butterfly Boy: Memories of a Chicano Mariposa, which received the American Book Award from the Before Columbus Foundation.
Khalin Vasquez:
Khalin Vasquez is a 19 year old Boricua poet from Brooklyn. You can most likely find her at an open mic or battling the forces of gentrification. She's performed at Lincoln Center, the Nuyorican Poets Cafe, the Apollo Theatre, and several other spots around the city.
Khalin is part of the Urban Word Slam Team, and will travel to Washington, DC this summer to represent NYC at the Brave New Voices International Poetry Festival. She is currently studying English at Hunter College.
Event Details:
Date: June 22, 2016
Time: 6:30 pm - 8:30 pm
Venue: The Elinor Bunin Munroe Film Center
144 West 65th St. New York, NY 10023
No RSVP Needed! 

We hope that you can join us in support for both of these wonderful events! Make sure you tell your friends!