Connecting with New Yorkers: Apicha CHC's Outreach
Posted On:
Written By:

Apicha Community Health Center
Our job at Apicha Community Health Center is providing our patients with the best services. To make sure we're serving our community to the best of our abilities, we need to step outside our clinic and connect with folks.
During National Health Center Week (NHCW), we took to the streets to reach out to community members. In addition to chatting with people about our services and offering free HIV testing in Lower Manhattan, we also spent time in Jackson Heights, where our new clinic will open next year.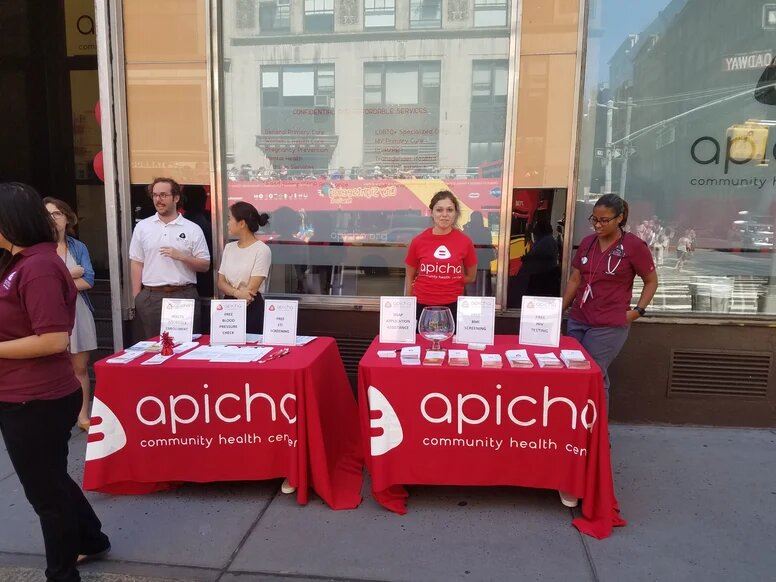 Manhattan Street Awareness
In an effort to spread awareness on our services, Apicha CHC staff members tabled outside our 400 Broadway clinic Wednesday, August 16. Folks in the area stopped to chat with staff, who answered a range of questions. Free HIV testing, nutritional consultations, and a raffle was also offered to folks who came to check us out.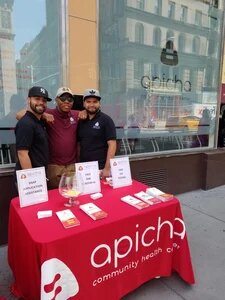 Jackson Heights Street Awareness
In early 2018, Apicha CHC will open its second health center in Jackson Heights. Although the health center won't be open for another several months, we still want to connect with members of the community. Which is why on Thursday, August 18 we spoke to people in the area about our upcoming opening and services we'll be offering. We also handed out some useful giveaways, like toothpaste, notebooks, and flashlights. If you're interested in becoming a patient at our Jackson Heights clinic, you can learn more here.
Peralta Back-to-School Event
With school kicking off in a few weeks, Apicha CHC helped families prepare at State Senator Peralta's Back-to-School event on Saturday, August 19 in Corona. Our staff tabled at the event, where hundreds of families gathered to collect free back backpacks and other giveaways sponsored by a number of organizations. Apicha CHC handed out coloring books, toothbrushes and toothpaste, pens, and growth charts for children who stopped by.