Apicha CHC Cuts Ribbon on Newly Expanded Facility at 400 Broadway
Category: News & Events
Posted On:
Written By:

Apicha Community Health Center
Apicha Community Health Center today officially opened its expanded operations at 400 Broadway in the Chinatown-Tribeca area. Apicha CHC CEO Therese R. Rodriguez gathered with staff, elected officials and community members for an official ribbon cutting ceremony, unveiling the facility's new state of the art ground floor and lower level space that adds to the organization's current fourth floor clinical operations. 
The expansion more than doubles the number of exam rooms and counseling rooms at the center, allowing Apicha CHC to serve even more people who live in Lower Manhattan and its core constituency including Asians and Pacific Islanders, the LGBTQ community, individuals living with and affected by HIV/AIDS, and many other underserved and vulnerable New Yorkers. The new space includes 7 new exam rooms at street level, 5 private rooms for other services and an on-site pharmacy on the lower level.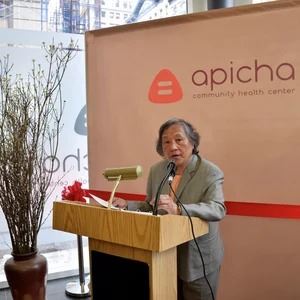 "This expansion is a recommitment to Apicha's 27-year history of improving the health of our communities and increasing access to comprehensive primary care, preventive health services, mental health and support services. It will allow us to significantly increase our outreach to those who often have the least protections," said Rodriguez.
"Health care is a human right, a social justice issue, a racial justice issue, an LGBTQ issue, and an immigrant rights issue. Today we rededicate ourselves to ensuring even more underserved and vulnerable New Yorkers are afforded top notch, culturally competent care aimed at improving their health and wellbeing."
---
- - - Request an Appointment Today - - - 
---
Plans to expand Apicha CHC began in 2013 when the agency received a Vital Access Provider grant from New York State to hire additional primary care and mental health providers, support services staff and other essential administrative staff. Apicha CHC then set plans in motion to expand clinic space to accommodate additional patients. Clinic expansion designs were completed in the Spring 2015 and construction began in October of 2015.
"We are extremely grateful to New York State for its vital support and incredibly thankful to the H. van Ameringen Foundation, as well as City Council Members Margaret Chin, Daniel Dromm and Corey Johnson for helping make the clinic expansion at 400 Broadway possible," said Gertrudes "Ding" Pajaron, Apicha CHC's Chief Development Officer. "The clinic expansion allows us to help more members of our community and the new pharmacy adds additional convenience for our patients. All of our staff are thrilled to serve even more of our NYC residents and increase our capacity to further the work we are committed to doing."
In addition to this expansion, Apicha CHC plans to open a second facility in Jackson Heights, Queens this in the spring of 2018. The Jackson Heights site will offer primary care for adults and children, dental, mental health, life-stabilizing support services, and an LGBTQ meeting room where the organization will engage with the community.
Apicha CHC's Jackson Heights expansion project is funded by the New York State Delivery System Payment (DSRIP) program's Capital Restructuring Financing Program (CRFP) and the New York City Economic Development Corporation's Community Health Center Pre-Development Support project.