The Meaning Behind Apicha CHC's I Swallow Daily Campaign
If you haven't seen them already, Apicha CHC recently updated its "I Swallow Daily" campaign to spread awareness and encourage folks to use PrEP.
PrEP is a new HIV prevention method for people who are HIV-negative to use in order to decrease the risk of becoming infected if they are exposed to the HIV virus. PrEP has been approved by the FDA and is shown to be safe and effective.
In an effort to raise awareness, fight stigma, and create a sex-positive message for folks to get on PrEP, we asked several NYC-based LGBTQ artists to help us create the perfect embodiment of "I Swallow Daily," and #NeutralizeHIV. You can read about the artists and what they wanted to express with their respective illustrations. We hope you love them just as much as we do!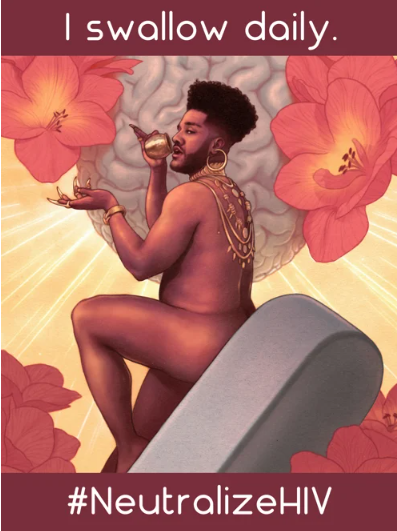 About the Artist: Charles Chaisson is currently a brooklyn based freelance illustrator, but was born in New Orleans, Louisiana where he lived until moving to Florida for college. While in Florida he studied at the Ringling College of Art and Design, where he received his B.F.A. in Illustration. Upon completion of college, he moved to NY to further his education at the School of Visual Arts. He enrolled in the Illustration as Visual Essay Graduate Program, where he received an M.F.A.
About the Art: "I wanted to draw an image of a man sipping tea from a gold cup, wearing gold jewelry, resting on top of a PrEP pill. I also wanted to have reference to a brain nested among flowers in the background to hint at [PrEP] putting your mind at ease."
Instagram Handle: @charleschaissonart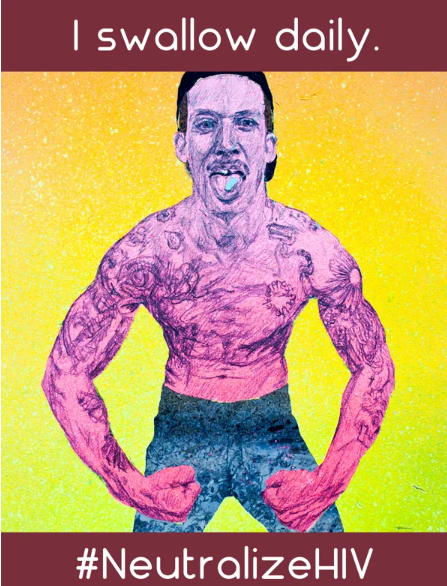 About the Artist: Kevin William Reed is an artist living and working in Bed Stuy, Brooklyn. His drawings and paintings are based in the resilience of nature as it basks in the radioactive glow of urban splendor; queer wonder in the face of a fascist regime. Kevin William Reed is a wild horse in outer space.
About the Art: "I wanted to convey strength and joy in the image I created for I Swallow Daily. Even with the amazing breakthroughs that are PrEP and PEP, there is still so much stigma around HIV that fear of conveying weakness, societal-based sexual repression and shame, and the just general apprehension of doctors are some of the reasons I feel PrEP and PEP aren't universally accepted and taken by sexually active humans. I'm hoping with a vibrant, playful, strong depiction of not just a person - but specifically myself- helps quell some of those underlying apprehensions and breaks a bit of stigma and fear around PrEP, PEP, and maybe HIV."
Instagram Handle: @kevinwilliamreed
3. Michael Ocasio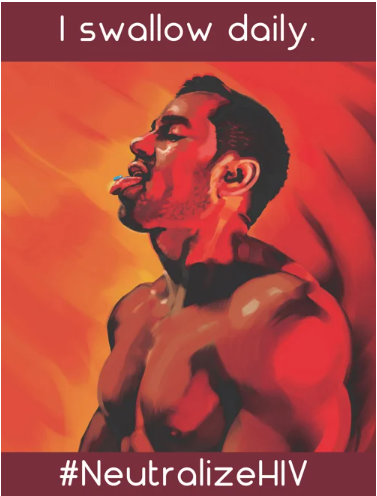 About the Artist: Michael Ocasio was born and raised in San Juan, Puerto Rico. He is a New-York based concept artist, illustrator and designer. Currently, he is the Creative Director at the STUDIO - an animation and production company in Chelsea. Mike is an avid figure artist, with a focus on pastel, acrylic and digital works.
About the Art: "In my painting, I wanted to convey that safer sex is hot. There's a confidence that comes from taking care of yourself and a peace of mind in knowing you're sexually responsible. I opted for a pose that was overtly flirtatious; the character is completely open and comfortable sharing his PrEP use. PrEP is something we should all be open to talk about without fear of judgement."
Instagram Handle: @mikedrawslife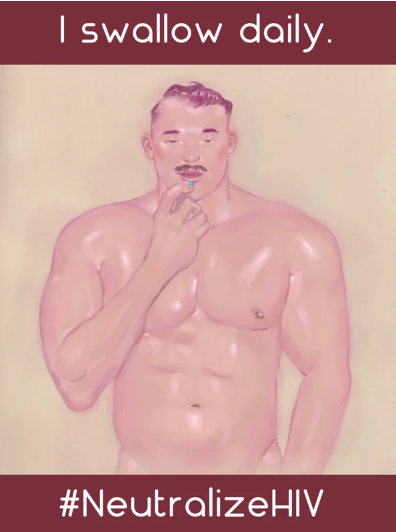 About the Artist: Justin Yoon is a Brooklyn based painter who was born in Los Angeles and grew up in both in LA and Bundang, South Korea. Early childhood memories of American junk food, late night old hollywood movies on the TV, and listening to jazz in the car with his family on long drives significantly affected him to create the world of romantic melancholia, synthetic colors, and casual lostness of being. His obsession with idealistic sexualized bodies depicts the romanticization of the transient quality of physical beings. With no specific emotions provoked, the artist aim to bring out something personal from the viewer by placing them in a deeply synthetic yet ambiguous dream like landscape.
About the Art: I wanted to create a soft, romantic image that could personalize the use of PrEP with ambiguous yet warm tone.
Instagram Handle: @jyoonny