One Thousand and One Champions: Apicha CHC's 29th Benefit Gala
Category: News & Events
Posted On:
Written By:

Apicha Community Health Center
On Wednesday, May 15, 2019, Apicha Community Health Center is hosting our 29th anniversary benefit, A Thousand and One Champions.
The event's name reflects the countless individuals over the years who have championed our cause, and this year we are honored to recognize three extraordinary people who have helped strengthen our mission to effectively meet the health care needs of New York City's underserved communities: Urban Health Plan President and Executive Director, Paloma Izquierdo-Hernandez; Former AIDS Institute Deputy Director, Ira Feldman; and MSNBC Anchorman and Journalist, Richard Lui.
About the Gala: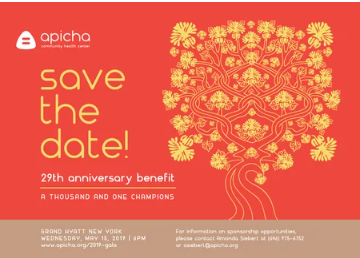 Every year, Apicha CHC pays tribute to outstanding individuals whose work improve the health and well-being of New York's LGBT community, people living with HIV/AIDS and the health care community at large. Called A Thousand and One Champions, the celebratory event will take place on May 15th at the Manhattan Ballroom of the Grand Hyatt, from 6:00 PM-10:00 PM in the evening. The award ceremony will be the primary highlight of our annual benefit gala.
Apicha Community Health Center is at a pivotal crossroads in its future – one that we are excited about. At 400 Broadway we continue to grow—in 2018 we surpassed our goal to serve over 5,000 patients. To better meet the needs of our growing family, Apicha CHC expanded our women's health services to offer more onsite family planning options and expanded our substance abuse services. And this year, Apicha CHC is preparing to open its second site in Jackson Heights, Queens. As one of the most diverse neighborhoods in the world, Apicha CHC is ready to embrace, support, and help better the lives of all individuals in this community. We will be offering adult and pediatric primary care, mental health, dental care, and an LGBT Community Center.
We celebrate our transformation and growth, as we continue to fulfill our mission to improve the health of our communities and to increase access to comprehensive care for people living with HIV/AIDS, the LGBT communities, immigrants and underserved and vulnerable people.
If you are interested in attending our gala, you can buy tickets buy clicking the link below.