Celebrate PrEP Aware Week With Apicha CHC
Category: News & Events
Posted On:
Written By:

Apicha Community Health Center
During PrEP Aware Week, from October 25-31, Apicha CHC will be hosting and co-presenting several exciting events.
PrEP Aware Week aims to educate communities about PrEP, get tested for HIV, and learn about safe sex. To learn about our events, read on below.
What is PrEP Aware Week?
PrEP Aware Week began in 2019 as part of the AIDS Institute's efforts to educate the public about PrEP and reduce new HIV infection rates. This year's theme is "This is Why I PrEP," which recognizes that PrEP is an individualized approach to HIV prevention and  sexual health. 
Although now widely known to gay men, not everyone knows about PrEP. As an HIV prevention pill, PrEP helps protect against the HIV virus by 99 percent when taken daily. However, not everyone knows that. There is still stigma surrounding HIV/AIDS, and many individuals may be hesitant to learn about or are entirely unaware of PrEP. PrEP Aware Week aims to change that. 
Apicha CHC PrEP Aware Week Events
1. Monday, October 26 at 4pm: PrEP 101 Webinar via Zoom
We'll go over everything you need to know about PrEP, and if it's right for you.
2. Wednesday, October 28 at 5pm: PrEP Community Discussion via Zoom
We'll host a community discussion about attitudes, questions, beliefs, behaviors, and knowledge about PrEP. 
3. Thursday, October 29 at : PrEP for Women Webinar via Zoom
Although PrEP is largely used by men who have sex with men (MSM), PrEP is available to everyone -- including women. Recent data has indicated that women are an underserved population when it comes to PrEP, so we want to make sure woman are getting the resources and information they need.
4. Friday, October 30 all day: TikTok Challenge! 
To finish the week, follow Apicha CHC's Project Connect on TikTok and help us spread the word about PrEP! You can create your own video showing your support for PrEP and how it works. Follow Project Connect's TikTok here: @apichaprojectconnect
How to RSVP: 
RSVP by clicking here or visiting https://tinyurl.com/prepweek2020. Our webinars will be hosted on closed Zoom meetings, which means you'll need to register to join and receive Zoom meeting information. You can also email jviloria@apicha.org to RSVP or if you have any questions. See you there!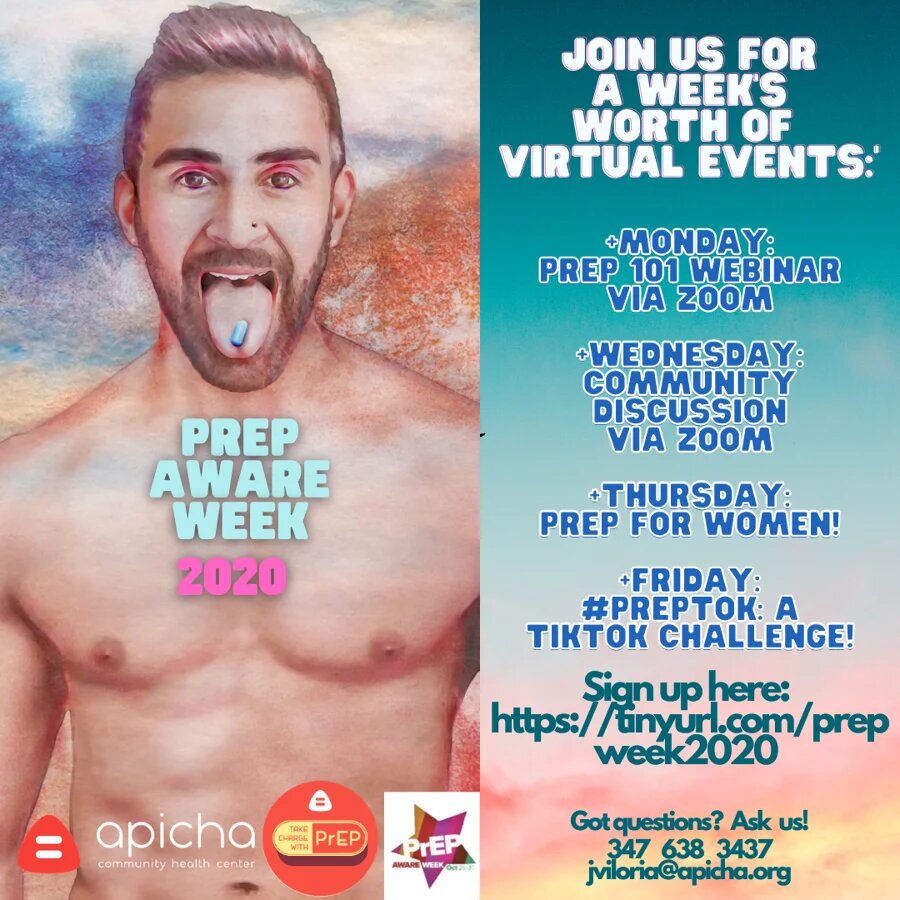 How Apicha CHC can help
At Apicha CHC, we are very proud of our viral load suppression rate for all our patients, the number of our patients on PrEP, and the number of people we get tested. If you'd like to learn more about PrEP, click here. 
Our healthcare providers are specialists in HIV prevention, treatment, and care. If you come for testing and remain for care at our community health center, you will receive consistent treatment from a healthcare provider who can attend to all of your health needs including HIV. You can request an appointment here, or click the link below.