API Heritage Month: Get in Shape with Asian Trainers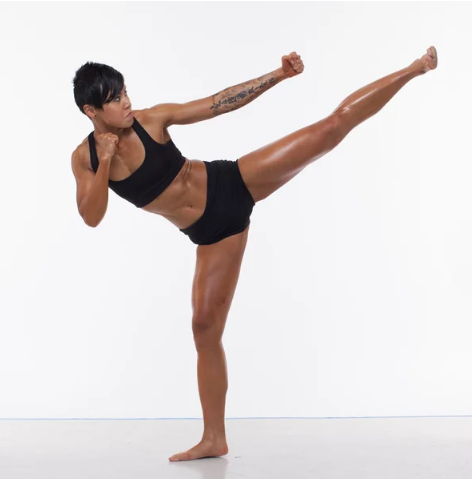 May is National Asian and Pacific Islander (API) Heritage Month, which celebrates and honors the many cultures, traditions, and histories of API communities.
Following the alarming rise in anti-Asian hate crimes, Apicha CHC wanted to find an inclusive and safe way to uplift, support and engage the API community. The CDC considers racism a public health issue, and so do we. As an organization, we were founded to serve API HIV-positive individuals. We've grown to serve everyone, but protecting and advocating for API communities remains a cornerstone of our work.
We'll keep you informed of our activities throughout the month, but today wanted to invite you to our virtual API movement workshop series:
Self-defense & Qigong sessions
Traditional Filipino Dance sessions
HIIT & Body Weight sessions
Throughout the month of May, these events will be available for free to the public and lead by API professionals in their industry. Read on to learn about the events and instructors.
Apicha CHC workshops to attend this month
1. Self-Defense & Qigong with Mo Yvonne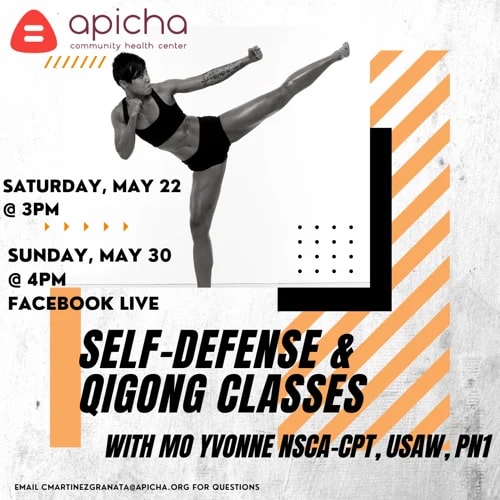 About Mo Yvonne,NSCA-CPT, USAQ, PN1:
Mo Yvonne is a martial artist and strength coach who bridges fitness and fighting using both eastern and western disciplines. She holds a black belt in Shotokan Karate, is a disciple and 4th generation of the Ip Man Ving Tsun lineage, and an instructor of Chen and Yang Tai chi. Her passion for being a lifelong learner of martial arts began at age 12 when she was first introduced to a life of martial arts tournament competitions and western gym weightlifting. Since then she has been promoting and teaching her knowledge of martial arts training to her fellow Asian Americans and LGBTQIA community in hopes of promoting safety, skill, and self-confidence.
2. Traditional Filipino Dance with Kinding Sindaw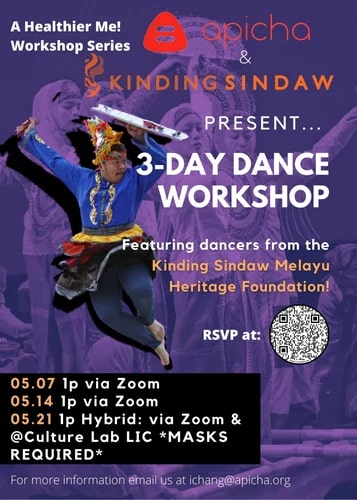 About Kinding Sindaw: Kinding Sindaw is an NYC-based nonprofit dance theater company composed of indigenous tradition-bearers, Filipino American artists, and educators from all backgrounds founded in 1992. Kinding Sindaw exists to assert, preserve, reclaim, and re-create the traditions of dance, music, martial arts, storytelling, and orature of the indigenous peoples of Mindanao, Southern Philippines.
3. HIIT & Body Weight Sessions with Tim Landicho, CSCS, CES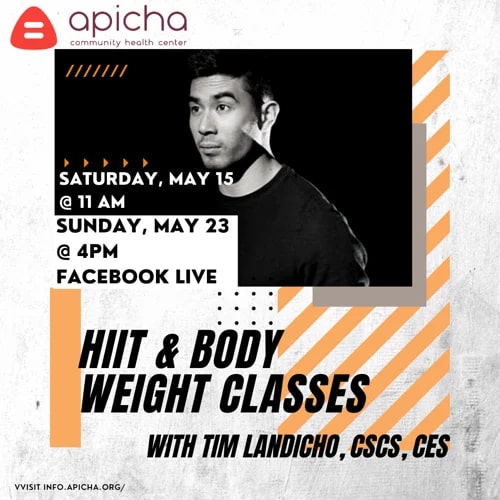 About Tim Landicho, CSCS, CES: Tim Landicho is a personal trainer and nutrition coach (as well as an online coach) in NYC, who is of the conviction that training, nutrition, and mindest are all simply vehicles for living a more fulfilled life--one that constantly nourishes us and allows us to give back to others. His love languages are words of affirmation, new music recommendations, and copious amounts of Ben and Jerry's. You can find him on Instagram @timlandicho, where he's often offering tips on exercise technique, nutrition, mindset, and how to incorporate fitness into a busy life.