Putting the "PI" in AAPI Heritage Month
Category: News & Events
Posted On:
Written By:

Apicha Community Health Center
As we continue to celebrate Asian and Pacific Islander Heritage Month, we are unpacking who exactly the "PI" in "AAPI" are. While Asians and Asian Americans are often at the forefront of AAPI Heritage Month, it's important to be inclusive and provide education about Pacific Islanders -- who are an essential part of the AAPI community.
Read on to learn more about Pacific Islanders.
Who Are Pacific Islanders?
The term "Pacific Islander" describes the Indigenous people from three geographic areas within the Oceania region: Melanesia, Micronesia, and Polynesia. While most American Pacific Islanders descend from Hawaii, Samoa, Guam, Fiji, Palau, and Tonga, several islands make up the Pacific Islands:
Melanesia:
Fiji, Maluku Islands, New Caledonia, Papua, Papua New Guinea, Solomon Islands, Timor Leste, Torres Strait, Vanuatu, West Papua
Polynesia:
Aotearoa, American Samoa, Cook Islands, Fiji, French Polynesia, Hawaii, New Zealand, Niue, Norfolk Island, Pitcairn Islands, Rapa Nui (Easter Island), Rotuma, Samoa, Tokelau, Tonga, Tuvalu, Wallis and Futuna.
Micronesia:
The Caroline Islands (Federated States of Micronesia - Chuuk, Kosrae, Pohnpei, Yap - and Palau), The Gilbert Islands, Republic of Kiribati, The Mariana Islands (Northern Mariana Islands and Guam), The Marshall Islands, Republic of Nauru
Where Are the Pacific Islands?
The Pacific Islands cover more than 300,000 square miles of land and millions of square miles across the Pacific ocean. While some islands are recognized countries of their own (such as Fiji and Palau), others are a part of larger countries such as the U.S. and France.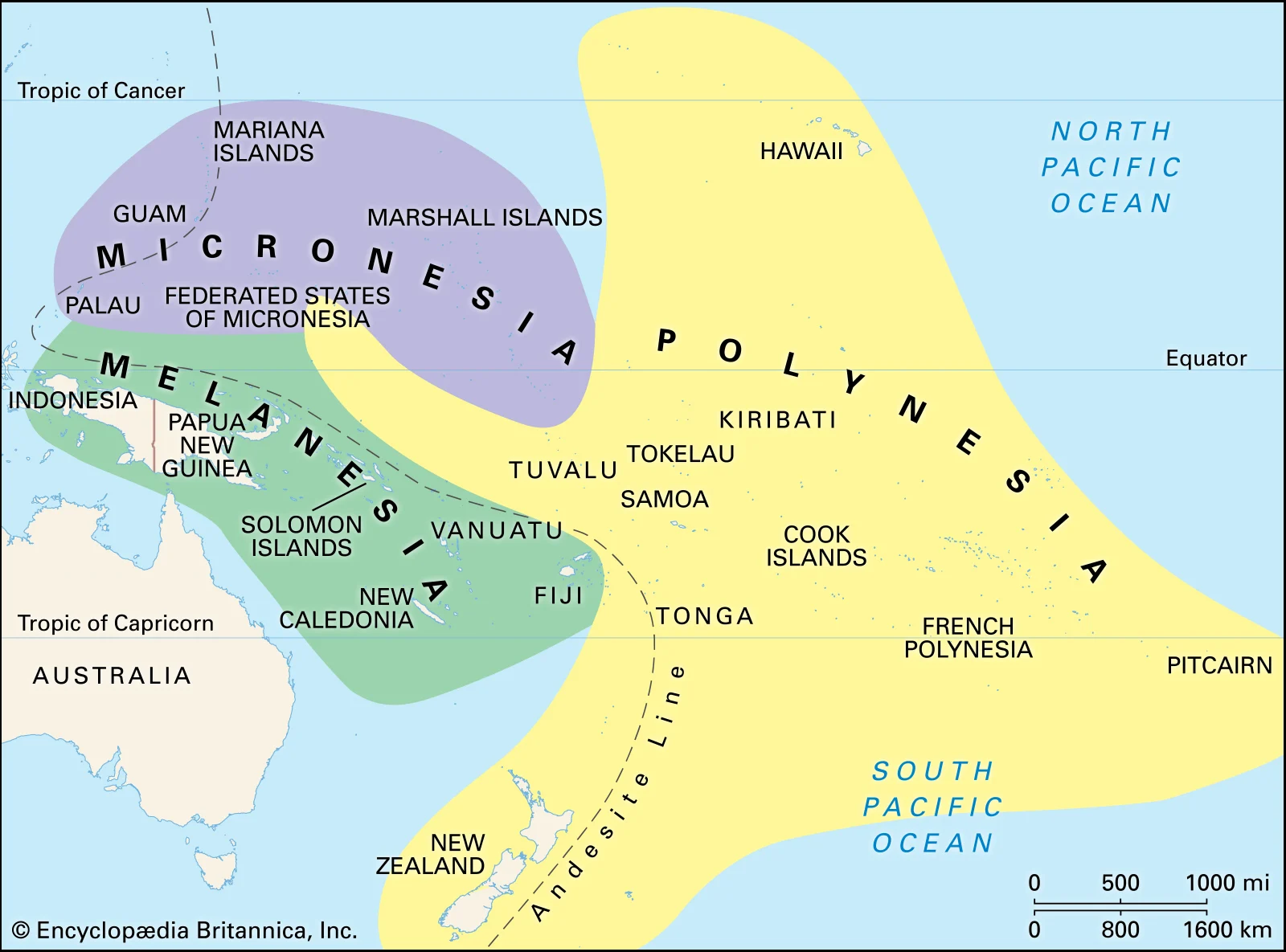 Image Source: Encyclopedia Britannica
Pacific Islanders in the U.S.
Census Bureau, there are around 1.4 million Pacific Islander Americans in the U.S. This group makes up 0.5% of the U.S. population, including those with partial ancestry.
Often during Asian American Pacific Islander Heritage Month, there is an emphasis on Asian American stories and voices, leaving Pacific Islanders marginalized and underrepresented within the AAPI community. It is just as important to celebrate the cultures of the various Pacific Islands and acknowledge their presence in the US. The trials and tribulations present in Pacific Islander history are unique and complex, rooted in colonization and the erasure of their people and traditions.
Learn More & Support the PI Community
There's much to learn when it comes to understanding the Pacific Islander communities, histories, and cultures. We gathered some resources below to help educate yourself and share with others.
Video: What Pacific Islanders Want You To Know
Pacific Islands | Countries, Map, & Facts
Pacific Islander Knowledge to Action Resource
South Pacific Islander Organization
HAPA: Hawai'i Alliance for Progressive Action
Pacific Islander Community Association
How Apicha Serves the AA&Pi Community
Apicha CHC was founded in 1989 with the mission to serve HIV-positive AA&PIs in New York City at a time when no one else would. Although our clinic has grown to serve everyone, we continue to hold space for the AA&PI community--including our Project Connect programs, which serve the queer AA&PI community.
Apicha is an LGBTQIA+ inclusive community health center in New York City that provides a variety of culturally competent health care services. We offer primary care, HIV specialty care, transgender primary care, sexual health services, behavioral health services as well as community education programs that are tailored to serve the LGBTQ+ community. We welcome and provide a safe space for everyone.
Please feel free to request an appointment or visit our website at apicha.org for more.