LGBTQ+ Ramadan Events & Resources in NYC 2022
Ramadan Mubarak from Apicha Community Health Center! We wish our Muslim community a peaceful and fulfilling holy month of Ramadan.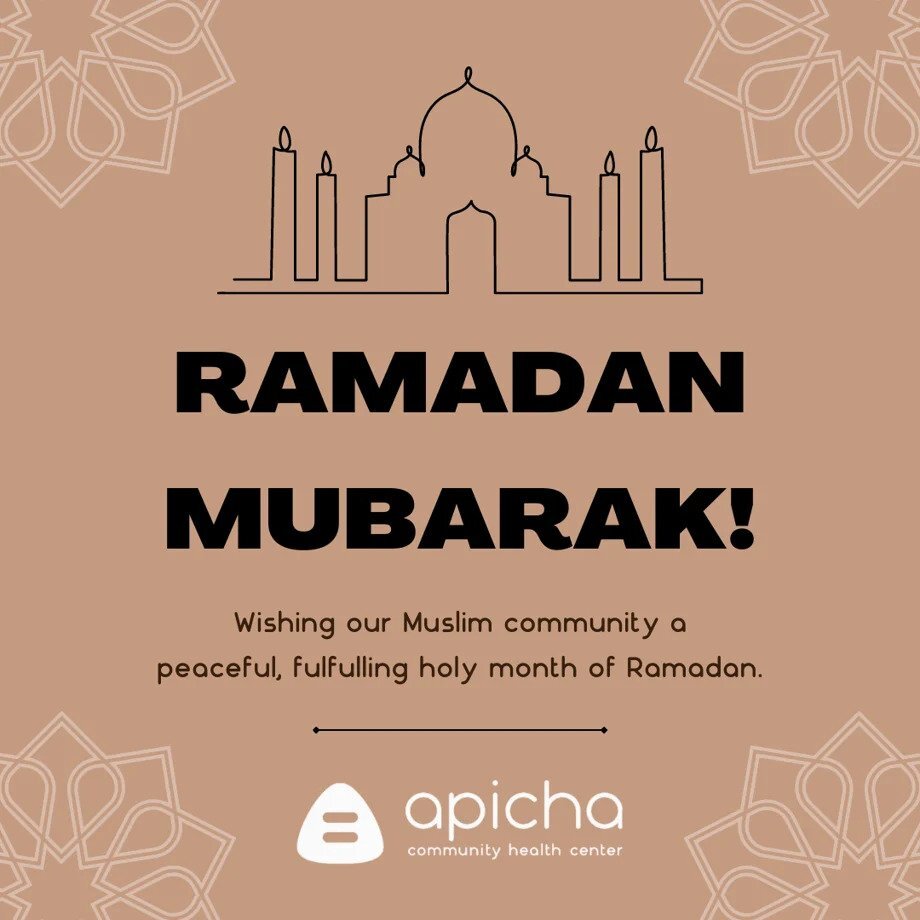 The holy month of Ramadan is one of the most significant months in the Islamic calendar. While it is a rewarding and celebratory time for Muslims worldwide, it can sometimes be an isolating time for LGBTQ+ Muslims who don't have a safe space within their Muslim communities.
Check out these NYC events and online resources specifically for LGBTQ+ Muslims.
Tuesdays & Thursdays: Black LGBTQ+ Muslim Maghrib Prayers
Hosted by Masjid al-Rabia, Prayers specifically for Black LGBTQ+ Muslims will be led every Tuesday and Thursday by Mar Aziz. This event will be hosted on Zoom. Register Here at this LINK.
April 27: LGBTQ+ Community Iftar
On Wednesday, April 27, join Caribbean Equality Project, NYC Commission on Human Rights, alongside other community partners for an LGBTQ+ Community Iftar at LGBT Center NYC!
"We invite our diverse Queer & TGNC Muslim community and allies to break fast with us as we celebrate the holy month of Ramadan with prayer, education, storytelling, entertainment, and delicious food. The forum is grounded in creating a safe and affirming space for LGBTQ+ Muslims and allies who celebrate Ramadan in solidarity."
Weekly Check-Ins for LGBTQ+ Muslims
The Muslim Alliance for Sexual & Gender Diversity is hosting Weekly Check-ins online every Friday at 7:00pm EST specifically for LGBTQ+ Muslims. This is can be your space to vent, bond, cry, laugh, and create community.
May 5: Queer-Inclusive Eid-Ul-Fitr Celebration
Join Desi Rainbow Parents for an LGBTQ+ Eid celebration! RSVP on their website: www.desirainbow.org/eid
The celebration features:
☪️ Affirming Prayer
☪️ Performances
☪️ Cooking contest - tinyurl.com/eidrecipecontest
☪️ LGBTQ+ & Muslim Trivia game
☪️ Group Discussion & Sharing
Desi Rainbow Parents & Allies is a non-profit organization providing support, education, and advocacy for Desi American Families with #LGBTQ+ Children and Family Members of all ages.
Daily Ramadan Reflections with Queer Crescent
Join Queer Crescent for daily reflections in their Instagram stories, where they are discussing the following topics:
Week 1: Muslim People's History
Week 2: Spirituality
Week 3: Community Care
Week 4: Muslim Futurism
Queer Crescent is a community organization of LGBTQI+ Muslims building community and culture through healing and organizing.
Ramadan Care Package for LGBTQ+ Muslims
Hidayah LGBTQI is offering a free, downloadable LGBTQ+ Ramadan care package equipped with a daily planner, art & media recommendations, daily Duas, and more. Download the free care package here.
Hidayah is a charity organization dedicated to supporting and empowering all LGBTQ+ people, particularly LGBTQ+ Muslims.