Health & Dental Insurance Enrollment is Now Open!
The New York State of Health organization has opened its insurance marketplace, a two-month-long period dedicated to the opportunity for families and individuals to apply for coverage beginning in 2023. The New York state's enrollment period began on November 16, 2022, and will remain open until January 31, 2023.
Do I qualify for insurance through NY State?
Although many people are able to sign up for an insurance plan through their job, many people do not have that option. You can still get affordable coverage through other programs.
"Today, one in every three New Yorkers is enrolled in health coverage through the Marketplace."
To Enroll, you must meet the following requirements:
Must live in New York State
Must be a US citizen, national, or lawfully present immigrant (Different immigration rules may apply if you are eligible for Child Health Plus or NYS Medicaid or the Essential Plan based on your income)
Cannot be currently incarcerated (Different rules may apply if you are eligible for Medicaid based on your income)
Cannot be applying for coverage of nursing home care or care provided in a Residential Treatment Facility for Children and Youth, Developmental Center, or Intermediate Care Facility for the Developmentally Disabled
Before signing up for a plan, you can get a quote based on the type of plan that you need and compare pricing.
Can Apicha Help Me Enroll in Health Insurance?
Yes! If you need assistance applying for health insurance, Apicha CHC can help. Our health insurance enrollment navigators are specially trained to guide you through the application process and answer any questions you may have. Our enrollment staff will be available Saturday as well.
To schedule an appointment with one of our enrollment navigators, click here.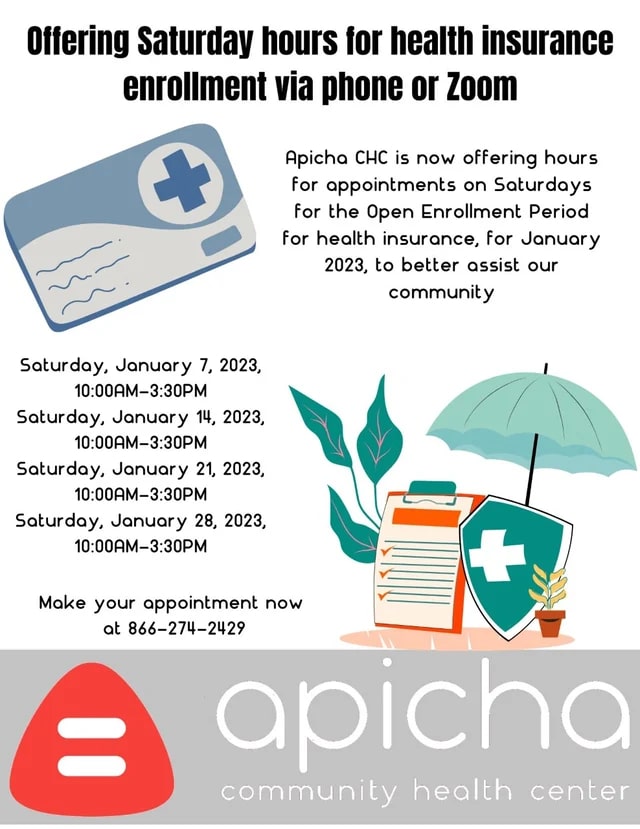 Apicha Community Health Center Locations and Hours:

Manhattan Location:
Address: 400 Broadway, New York, NY 10013
Hours: Monday - Friday, 9:00 am — 5:30 pm. Closed on Saturday and Sunday.
Phone: (212) 334-6029
Jackson Heights, Queens Location:
Address: 82-11 37th Ave. Jackson Heights-Queens, NY 11372
Hours: Monday - Friday, 9:00 am — 5:30 pm. Closed on Saturday and Sunday.
Phone: (718) 567-5200
About Apicha CHC:
Easy to schedule appointments
No waiting time
Experienced medical providers
Bilingual providers and staff
Clean and beautiful health center
Convenient Location
After-hours Answering Service with Apicha Provider on call for Urgent Medical Issues