Apicha CHC's HIV Primary Care Sees Great Results
Category: Sexual Health
Posted On:
Written By:

Apicha Community Health Center
Apicha Community Health Center is proud of our history serving people living with HIV/AIDS in New York City. We have some exciting news to share regarding the health of our HIV-positive patients -- they're regularly coming in for care, finding medications that work for them, and achieving what's called viral load suppression.
If you aren't familiar with viral load suppression, it means there is only a very small amount of the virus in someone's body. What's incredible is that when a patient's viral load is suppressed they stay healthier and their chance of transmitting HIV virus drops dramatically. Someone gets a suppressed viral load by taking what's called an anti-retroviral therapy (ART) that works for them. At Apicha in 2015, 92% of our HIV+ patients suppressed their viral loads!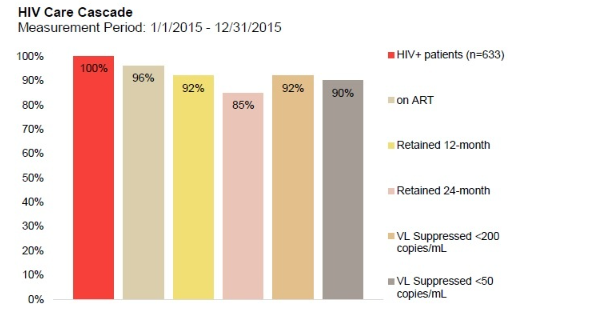 Viral load suppression is only one part of what's known as the HIV Treatment Cascade. This is a model that outlines the stages of HIV medical care that people living with HIV go through from initial diagnosis to achieving the goal of viral load suppression. The cascade was included in President Obama's National HIV/AIDS strategy, the Affordable Care Act, and New York State's effort to End the HIV/AIDS Epidemic by 2020. Because Apicha CHC's HIV care model was developed around these important milestones, helping our patients achieve Viral Load Suppresssion was integrated into our practice.
To learn more about New York State's progress to End the Epidemic by 2020 click here.
Why is this so important?
In the fight of HIV preventeion, activists, organizations and people impacted by HIV have fought tirelessly to improve access to care, find safe and supportive places to receive treatment, and all the while work towards destigmatization.
Our results represent all of these things coming together. At Apicha CHC we have improved access in our outreach to our patients from communities of color, served a majority of low-income people, and increased our access for transgender patients seeking care. We offer a number of support services that make these successes possible and we are constantly improving social and cultural competence and education to destigmatize HIV.
Our efforts our in line with New York State and City's mission to end the HIV/AIDS epidemic. In 2015, Governor Andrew Cuomo announced his blueprint for ending the AIDS epidemic in New York State by 2020. The goal is to reduce the number of new HIV infections to just 750 (from an estimated 3,000) and achieve the first ever decrease in HIV prevalence in New York State. To accomplish this goal, three pillars were developed: 1) Identify persons with HIV who remain undiagnosed and link them to health care; 2) Link and retain persons diagnosed with HIV in health care to maximize virus suppression so they remain healthy and prevent further transmission; and 3) Facilitate access to Pre-Exposure Prophylaxis (PrEP) for high-risk persons to keep them HIV negative.
How did we achieve these results?
The Patient-Centered Medical Home model at Apicha Community Health Center combines primary medical care with life-stabilizing mental health, care-management-based support services, and health-related policy advocacy. This model was adapted from our nationally-recognized HIV services that responded to the special needs of LGBT individuals, Asians & Pacific Islanders, and those with limited English proficiency.
And, of course, none of this would be possible without the dedication and work of our amazing patients and devoted staff.
What to do if you think you could be HIV positive:
Know Your HIV Status. If you haven't been tested in a while or you've never been tested, it's time! If you're in New York City, come make an appointment at Apicha CHC or click here to find testing sites nationwide.
If You Are HIV Positive, Get a Doctor Who is an HIV Specialist. An HIV Specialist can work with you to get on HIV medications and help you achieve viral load suppression. If you know you're HIV positive and are not seeing a doctor, make an appointment with Apicha today.