Happy New Year! Apicha's 2022 Recap
Category: News & Events
Posted On:
Written By:

Apicha Community Health Center
As we reflect on the past year, we see a city gradually coming back to life. COVID-19 vaccinations made it possible for people to return to the office, children to return to class, and businesses to operate like the time before the pandemic. But there were setbacks. This summer a monkeypox outbreak threatened men who have sex with men. New, highly transmittable variants of COVID-19 sprang up. Even so, overall, life improved in 2022.
Like the city, Apicha Community Health Center (CHC) saw improvements this year. Here are highlights of our accomplishments from 2022.
1. Welcome Our New Clinic in Jackson Heights:
The much-awaited new health center site in Jackson Heights, Queens is finally serving patients. In addition to adult primary care, Apicha CHC now offers pediatric primary care and dental services in-house. Spreading the word about the new clinic was an agency-wide effort. We fielded outreach teams at community events like street fairs, parades, and festivals. We partnered with consulates, elected officials, and other non-profit organizations.
Click to watch our Jackson Heights promotional video.
Here's a story from our Director of Dental Services, Dr. Jesse Barrett: "A case worker at my previous organization reached out to seek dental services at our clinic. She and her daughter received exams and cleanings and were impressed at the quality of our services, the beautiful new facility, and the overall encounter. That organization has since been involved in housing several families that have recently arrived in New York City seeking asylum. Because of her positive experience at Apicha, she has referred these families for dental services at Apicha CHC."
2. MPV Pandemic Response
When this summer's Monkeypox outbreak threatened the health of the city's men who have sex with men (MSM) community, Apicha CHC staff acted fast, creating resources for our community. The New York City Department of Health and Mental Hygiene (NYC DOHMH) partnered with Apicha CHC to schedule vaccination appointments as they came available. We also received additional vaccines from the federal Health Resources & Services Ryan White Program. Due to the swift response of the health department, providers like Apicha CHC, and the MSM community, the outbreak was contained.
3. COVID-19 Response in the AAPI Community
New York State asked us to help increase vaccination rates amongst the American Asian and Pacific Islander (AAPI) community. To accomplish this goal, we held nearly thirty pop-up events around Brooklyn, Manhattan and Queens and completed an in-language print marketing and direct mail campaign to the zip codes where the largest number of unvaccinated AAPI lived—primarily in Eastern Queens. We are honored to be part of the statewide effort to bend the curve on new COVID-19 infections. It is notable that nearly 90,000 individuals residing in the areas where our campaign ran got vaccinated. And six out of the nine zip codes where we advertised saw a larger increase in vaccination rates than New York City as a whole.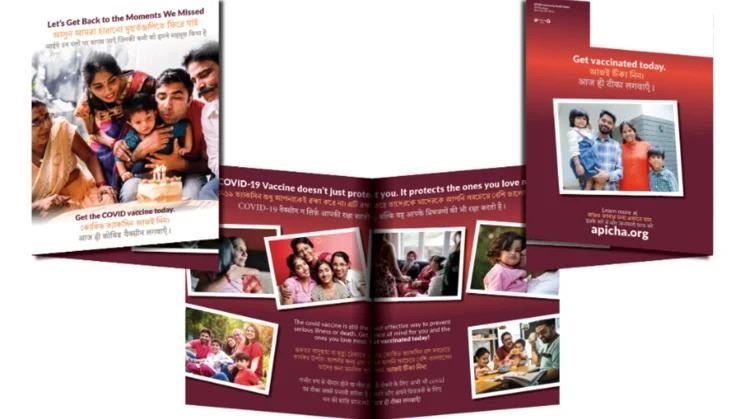 An example of the in-language brochures distributed during Apicha CHC's vaccination campaign.
4. HIV, STI, Hepatitis Prevention Services
Apicha CHC is pleased to report our PrEP (Pre-Exposure Prophylaxis) and PEP (Post-Exposure Prophylaxis) programs will continue in the coming years. In January 2022, we joined Public Health Solutions' PlaySure Network 2.0, which allows us to continue our PrEP and PEP case management services. In May, Apicha received an award from the NYC DOHMH that allowed us to expand our support services to help people who are misusing crystal methamphetamine. These services allow Apicha CHC to honor our commitment to enhancing our patients' quality of life. This month, the NYS AIDS Institute awarded funds to support testing, screening, and outreach to Young Men who have Sex with Men in communities of color.
5. Info Sharing
When asked to share our experiences and expertise with greater communities we obliged. Apicha CHC staff participated in multiple panels and presentations throughout the year. In May, Chief Executive Officer, Therese Rodriguez, took part in The Trevor Project's AAPI Heritage Month Panel. Apicha CHC's Director of Mental Health Services, Jun Matsuyoshi, facilitated a panel to discuss AAPI mental health convened by Project CHARGE, Congresswoman Grace Meng's office, and Councilmember Linda Lee. Venus Vacharakitja, Ph.D., Director of Support Services, was part of NYSDOH MH's panel discussion on the importance of cross-racial solidarity and having an intersectional approach to work and community building. Director of Community Health Education, Melanie Dulfo, participated in an AAPI Heritage Month panel arranged by The NYC Department of Youth & Community Development. In June, Phillip Miner, former Director of Grants and Communications, presented best practices in LGBTQ+ Mental Health at a town hall organized by the Health Resources and Services Administration (HRSA).
6. Honors
Chief Executive Officer, Therese Rodriguez, was recognized as one of Crain's Notable 2022 Asian Leaders for her work in healthcare. Timothy Au, Assistant Director of Support Services – Member Services, was selected honoree for the 2022 Community Recognition in Spirit Awards from Translatinx Network. Also, Apicha CHC was recognized as part of the Queens Power List, the Gay City News Impact Awards, and Health Commissioner Dr. Ashwin Vasan selected Apicha CHC as a 2022 World AIDS Day Award recipient. Apicha CHC's Health Home program was announced as the Top 2 performer by the Community Care Management Partners Health Home Quality Committee. We are grateful to be acknowledged for the impact we make in the communities we serve.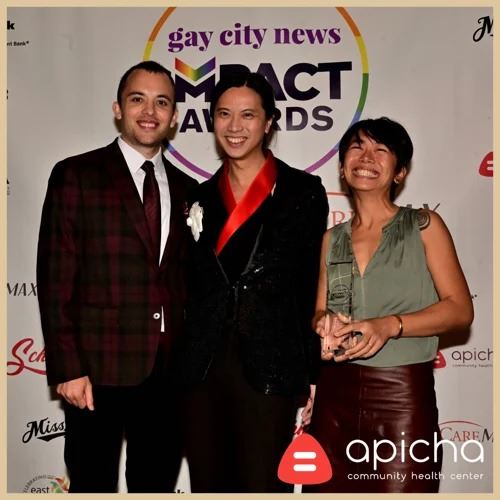 Timothy Au and Melanie Dulfo accepting the Gay City News Impact Award on behalf of Apicha CHC.
7. LGBTQ+ AAPI Needs Assessment
Under the leadership of Glenn D. Magpantay, Apicha CHC undertook an ambitious effort to address the health and wellness needs of New York City's LGBTQ+ Asian & Pacific Islander community. The effort included an in-depth survey of 344 LGBTQ+ individuals in the AAPI community in 10 languages as well as discussions with local LGBTQ+ AAPI organizations. The final report will be published in early 2023. The purpose of this survey and its subsequent report was to explore:
The health and wellness needs of the New York City LGBTQ API community
Barriers or "social determinants" that frustrate access to these needs
Services and programs or "delivery models" to address these needs.
These accomplishments were achieved because of your abiding support of Apicha Community Health Center. We are coming out of the worst of times and look forward to working continuously together to build a healthier and stronger community.